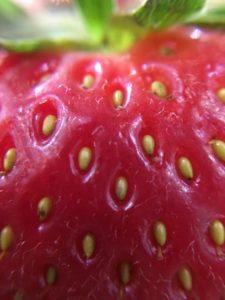 There are many lessons I've learned in the garden.  Some of the hardest lessons have come from my attempts to grow fruit; apple trees, blackberry bushes, blueberries, raspberries, and strawberries.  We've uprooted trees, transplanted bushes, and battled disease and pests.  Seriously. I could probably write a series of blogs on the difficulties trying to grow fruit.  It has not been easy.  But when "fruit victories" come, they are the most rewarding.
A few years ago, I had decided to grow a small strawberry patch.  It sounded relatively simple.  It wasn't.  Strawberries require cultivation and commitment.  Expert growers will tell you that a good crop will take at least two years before you yield fruit.  A patch does well for about 5 years before you need to rip it out and start all over again.  The temptation in the first year, is to allow the strawberry flowers to pollinate and become berries.  But if you allow that to happen, you'll sabotage the plant's efforts to grow runners (new plants) and become a healthy patch.  These plants don't do well multi-tasking (I'm sure that alone could preach a sermon).  A plant does better focusing on one thing at a time; either growing, producing more plants or ripening berries.  Take it from me and my impatience, pinch the flowers off and let the plants grow.  They'll have a better chance of survival in the winter months and yield more than 7 ½ berries the next year.
My second round of berries did much better.  I took time to read about cultivating berries and made sure each plant had only two runners per plant.  The others were gently cut away as were the flowers.  Things were looking good throughout the spring and early summer.  It wasn't until September when I noticed that something was wrong.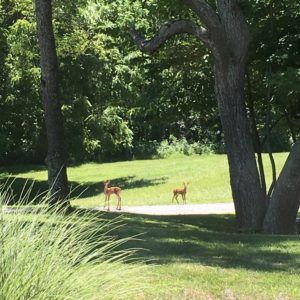 The leaves were slowly disappearing.  I couldn't figure it out until a fateful day when I walked out to the garden with my morning coffee.  There, in the middle of the strawberry patch, was a deer chewing on my precious strawberry plants!  I let out a blood curdling scream, startling the deer and my children.  I was livid!!  The deer didn't move.  She just stood there.  I walked within 20 feet of her, yelling about how she had a lot of nerve jumping through my five strand electric fence to attack my unsuspecting plants.  I tell you no lie…. She just STOOD there chewing.  I could hear her mocking me: "Really?? And what are you going to do about it?"  I responded by ensuring her that my husband would get her come November.  I have many stories about this particular deer.  We're pretty sure she was hit by a car as a yearling (a deer-child).  She's affectionately known around here as "Ballsy Baby." She and her friend "Deer-jerky" ate their way through most of my strawberry patch, blueberry plants and blackberry bushes before hunting season.
I can laugh about it now, but that year I was heartbroken.  I had put so much time and effort into those berry plants.  They were important to me.  I remember taking a walk on our property and pouring my disappointment out to God.  I know it must seem silly to be in turmoil over berries, but they had been a desire of my heart.  God didn't say much to me that day but I felt his presence with me.  He didn't scold me or tell me to try harder next time.  He listened and He cared.
That winter, I resolved not to let the deer get the best of me.  I would try again.  The next spring, we installed a better fence.  As the plants woke up from their long winter's nap, it was apparent that only 1/3 of the previous year's plants had survived. I ordered an additional 24 strawberry plants to make up for the deer-pocalypse.  For those who are new to the berry world, most strawberry plants will produce a harvest from early to mid-summer.  I had chosen the "Jewel" variety for their size and flavor.  By June, the second year plants produced some of the most delicious berries we had ever had.  I was thrilled.
This brings to me to yesterday.  Being mid-October, I ventured into the garden to begin plans for winter.  By next month, we would be putting the garden "to bed." For the strawberry plants, this means laying a light straw bed on top of the berry plants to insulate them from the cold.  To my surprise, I reached down into the plants and found a handful of ripe berries ready to pick off the vine!  I couldn't believe it!  How was this happening in October?  In that moment, I felt the Lord speak to my heart: "Did you think I had forgotten?"  Tears rolled down my cheeks as I popped these precious "jewels" in my mouth.  It was a gift.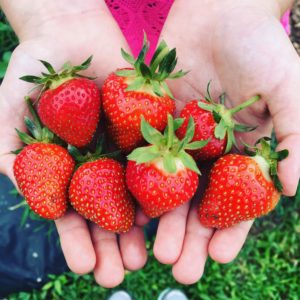 We sing songs about God being a good Father but many of us have difficulty thinking that God would lavish us with unique gifts that are specially designed for us.  These gifts are treasures He uses to pursue our hearts.  They are meant to offer hope and a renewed sense of wonder.  Some come when we're not looking for them.  In fact, maybe we won't even recognize them until much later.  Others come when we need them most.  I've had some friends who receive gifts from the Lord in the form of heart shaped stones on long mountain hikes.  Others will receive words of love and encouragement as they watch a movie or read their favorite book.  For me, the "jewels" I received in the garden came with a message that said, "I see you.  You are my beloved.  What matters to you, matters to me."  Today, I have been challenged to ask God to open the eyes of my heart to see all of His gifts.  You see, I don't want to miss opportunities to embrace His love and thank Him.  He is a good Father and He knows how to give good gifts.
"You parents—if your children ask for a loaf of bread, do you give them a stone instead?  Or if they ask for a fish, do you give them a snake? Of course not! So if you hard-hearted people know how to give good gifts to your children, how much more will your heavenly Father give good gifts to those who ask him." Matt 7:9-11