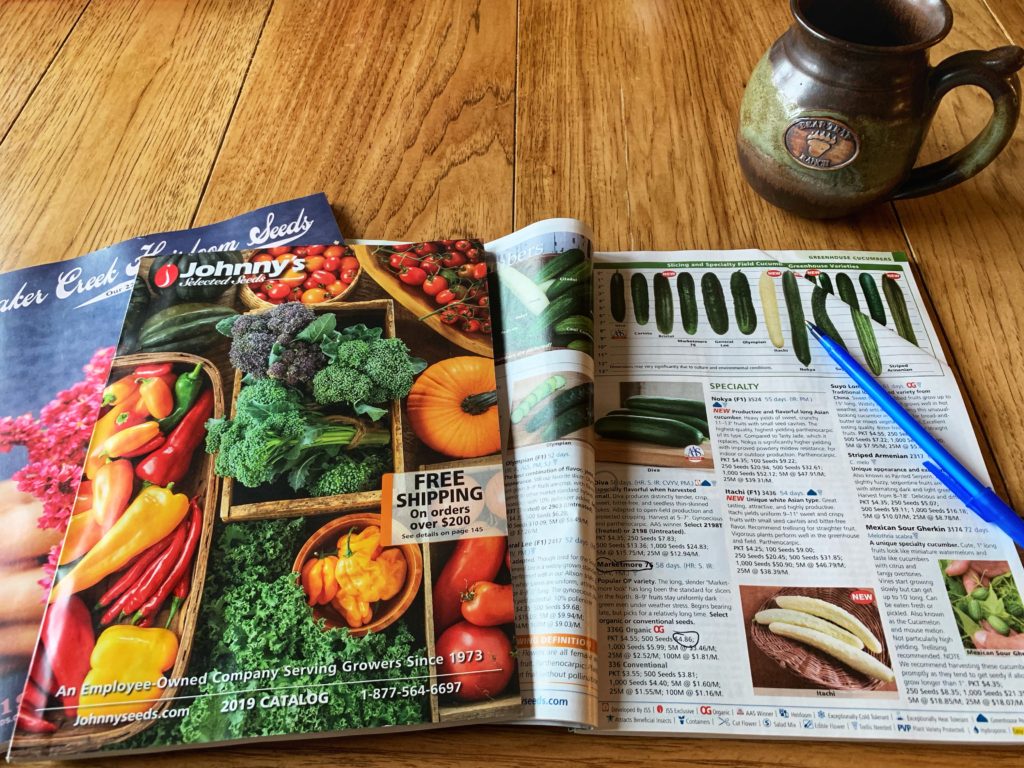 A few weeks ago, I received a new seed catalog from one of my favorite gardening companies. I was standing in the kitchen sorting through the mail when I first laid eyes on it. The moment I picked it up, a rush of excitement filled the air. My mind suddenly transformed into an unending Pinterest board full of ideas for the coming season. There are new plants and vegetable, new canning recipes to tackle, and new gardening techniques to try. Truly a plethora of possibility. Then, within a few moments, the scrolling paused as I came across a mental image of myself in the garden on my favorite day of the season; the day I plant my seedlings. I've expounded on this in a previous post. There's just something beautiful and fulfilling about planting. It's a day of fresh starts where everything is new and full of possibilities. It's amusing to think that those moments of delight entered my day simply by picking up a seed catalog! Had you walked into my kitchen that morning, you would have witnessed my adult self – in her PJ's with coffee in hand – suddenly transformed into a little girl eagerly making her Christmas wish list in the pages of a catalog.
Not long ago, a friend suggested that I include a section in my blog to encourage gardeners to think about what they should be doing as it relates to gardening at the time of my post. It was a great suggestion, so here it is. My friends, this is the time of year to pick up the latest seed catalog to get the creative gardening juices flowing. While you may be more interested in plants vs seeds, these catalogs are still a great tool to start thinking about gardening possibilities. Several companies will offer tips within the catalog on plants that work well together (companion plants) to help make your garden more fruitful. Within the next few weeks, you'll want to purchase your seeds, especially if you have hopes of growing a spring garden (spinach, kale, lettuce, peas, broccoli or cauliflower etc…). These are plants that enjoy cooler weather. When your seeds arrive, be sure to read the growing instructions on the back to see if the company recommends direct planting or transplanting (growing from a protected environment like a greenhouse or an indoor growing station). If you are going to start your seeds indoors, there are several growing options available. For me, I've chosen to set up a growing station in the basement equipped with heating pads for germination and grow lights for the seedlings after they have come up through the soil. If you are attempting seedlings this year, check out the grow lights and heating pad options from the company you are buying seeds from. Many companies will offer coupon codes and savings if you are planning to make larger purchases.
I have grown to love starting plants from seeds. Not only is it economical, but you can learn a lot of spiritual truths from the process. For me, the time for seeds is a reminder of our heart's need for hope. It's funny how all the back breaking work from the previous season can seem like a distant memory in light of what "could be." Spring time dreaming always seems to bring a ray of sunlight in the midst of a long winter day. Whether you're dreaming of spring and gardens, a sunny day at the beach, or a new creative project around the house, dreaming has a way of reminding us to look past our current circumstances.
Dreaming is essential for our hearts. It's a place where creativity is given free reign and fresh vision pushes us to think outside of the box. Dreaming is an expression of the desires and longings in the deepest place of our being. It is a place often hidden away from the rest of the world. In his book "Desire," John Eldredge says that, "There is a secret set within each of our hearts. It often goes unnoticed, we rarely can put words to it, and yet it guides us throughout the days of our lives. This secret remains hidden for the most part in our deepest selves. It is the desire for life as it was meant to be." Our desires are rooted in our heart's search to understand who God is and who we are meant to be.
I have a confession to make. Dreaming hasn't always come naturally for me. I've struggled to allow dreams and desires to surface. I can't tell you the number of times my hopes and dreams were overrun by logistical thoughts: "And just how are you going to do that? Do you even have the skill set to accomplish it? Have you considered what that will cost you? What if you fail? What will that say about you? Are you really willing to take that risk?" While some questions may be helpful to consider in the process of goal setting, they are not helpful in the way they corner our souls during the exploration phase of dreaming. Questions like these can be the sign that fear is present.
As believers, we know that love overpowers fear. But when you're in the midst of a battle against fear, it can feel impossible to know which direction is up in order to catch your breath. Several years ago, the Lord opened my eyes to see the reality that is that it is not my sole responsibility to find my way through the storm. My role is to yield, acknowledging my limits, and cry out for Jesus. His promise is to meet me wherever I am. That doesn't mean that all my troubles vanish. It means that He will stay with me, reminding me of who I really am. This is the mystery of His love and grace.
Let me share another truth the Lord revealed to me about dreaming: Dreams, hopes and desires should not be confused with strategy, goals, and objectives. When this revelation came, it was as if an insurmountable pressure to perform and produce something was lifted from my shoulders! I could breathe again. My heart embraced the new found freedom Christ was offering me. Now I realize I've just made all of my goals oriented and project driven friends go crazy with that statement, but hear me out. What God is inviting His children to do is to dream and explore their desires without feeling the pressure to develop a multi-phased business or ministry model! Our dreams do not need to be weighed on the scales of profit earnings or global effectiveness. Consider this – what if some of the unique desires within us were meant to provide a sacred sanctuary to commune with the Father? What if they weren't meant for public consumption or scrutiny? What if these God created dreams were simply meant to bring a smile to His face?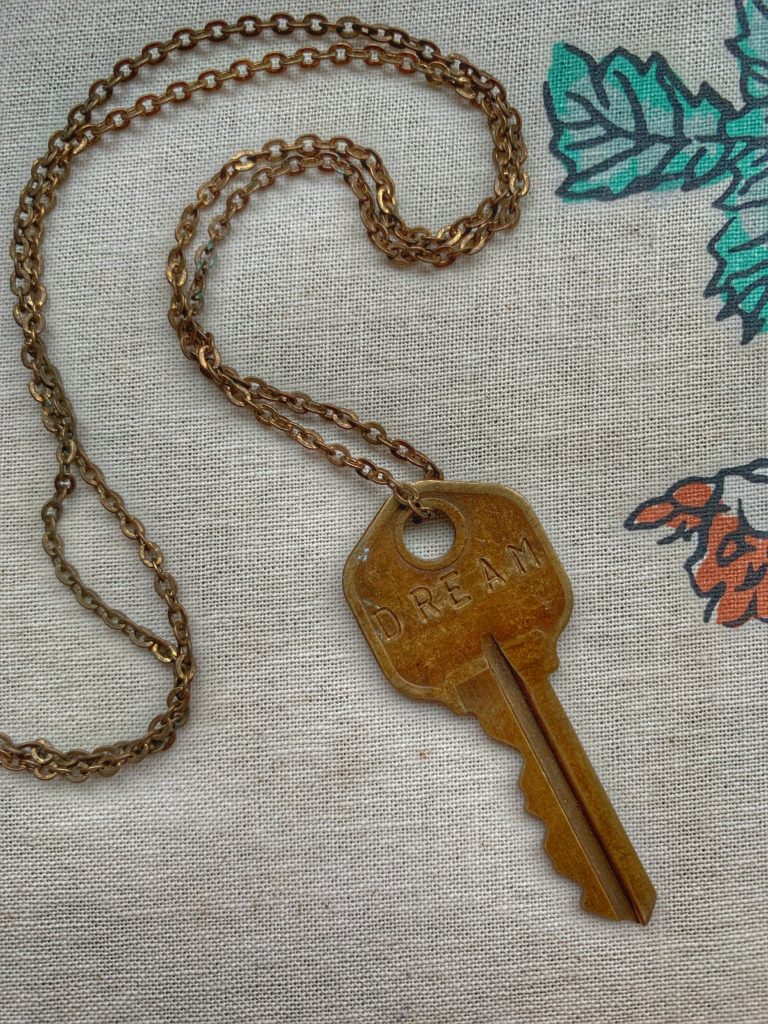 I could probably end here but let me offer one more helpful suggestion in terms of exploring the seeds of desire within. Sometimes it's hard to access our desires because they've been carefully locked away. Sometimes, we need help from others to remember them. Truly the best place to explore dreams is by partnering with God and a few trusted individuals who are skilled in art of listening and knowing how to ask good questions. I'm sure I don't need to educate anyone on the pitfalls associated with sharing our hearts with people who may good intentions, but lack the courage and introspective nature needed to embark on the inward journey. It is for this reason that I have a select group of friends who are skilled in this manner. They aren't afraid of my rawness. And they don't have a hidden agenda to move me into in their ministry or business plans. They offer me safe passage and kindly invite me to the arms of Jesus in my uncertainty. One of these precious few gave me a token key (see photo) to remind me of ways I was designed to unearth God's dreams in others. If you find yourself needing a trusted fellowship of like-hearted Kings, I encourage you to ask the Father to send them your way.
"Every moment and every event of every man's life on earth plants something in his soul. For just as the wind carries thousands of winged seeds, so each moment brings with it germs of spiritual vitality that come to rest imperceptibly in the minds and wills of men. Most of these unnumbered seeds perish and are lost, because men are not prepared to receive them: for such seeds as these cannot spring up anywhere except in the good soil of freedom, spontaneity and love."

— Thomas Merton, New Seeds of Contemplation