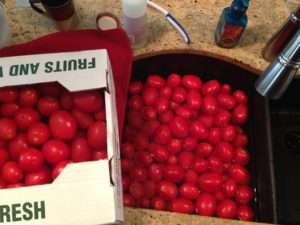 This new friendship with my neighbor was an unexpected gift.  I remember venturing to her door to inquire about eggs.  Brenda called out from the kitchen, "I can't leave the stove! Come on in."  I was definitely not in the city anymore!  I walked in.  It's difficult to describe the experience I had in that moment.  The smells from the kitchen were strangely familiar.  It was a combination of fresh produce, spices – and heat.  Memories began flooding my mind.  It took me back to a time when we lived in Canada near my mom's family.  My Aunt and Uncle live on a farm about 30 minutes from where I grew up.  To this day, Aunt Gail works hard to incorporate natural products and healthy food options into her family's lifestyle.  Let me just say, my Aunt was doing it long before it was "cool" or the latest hipster trend!  I remember visiting my Aunt and watching her bring up canned treasures from the basement.  She talked about freezing and canning and how she got this or that from the farm nearby.  My mom still talks about the breakfast sausage my Aunt purchased from their neighbors: "Aimee, I promise you…it's the best sausage I've ever tasted!" In that moment, I missed her and I missed home.  Our move to the States had offered little exposure to farm life.
Walking into the kitchen, I found Brenda working at the stove with a towel draped over her shoulder. She had a several pots on the stove and was focused on a mid-sized stock pot where her latest mixture was about to be finished.  "I'm trying this new recipe.  Have you ever had peach salsa?" She was warm and friendly and told me about her upcoming canning projects.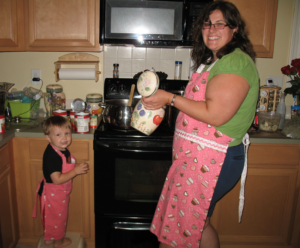 Canning.  As a city-girl, it always baffled me how people could preserve their own foods and LIVE to tell the tale!  I really didn't think people my age were doing much of it until I met my friend Julie.  Julie had grown up in a large Italian family.  I always loved when she told me stories about her family's garden and canning adventures.  It was intriguing.  The more she talked, the more interested I became. Honestly, it always sounded like a scene from my "Big Fat Greek Wedding!"  Listening to these stories had awakened a deep desire within me.  Why couldn't we try it here? Certainly we could duplicate this movie-turned-to-life experience in my small kitchen!  I mentioned the idea to Julie and between the two of us, we roped in a few more unsuspecting girls.  I contacted someone at a local farm to ask about tomatoes. "Sure. I have a few bushels. How does that sound?"  A few bushels?  "Sure," I said.  I had no idea what a bushel was. The day I picked them up, they filled the back of my van.  What was I getting myself into? I remember driving home calling Julie, "Uh…. Jules, this is a lot of tomatoes."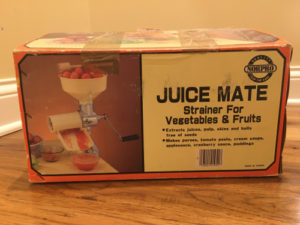 She giggled and assured me that it would be fun.  A few days later, Julie had shown up at my house with a pink apron and a hand crank juicer.  My hand still hurts when I think about doing the entire amount of tomatoes with that hand crank!  After several hours, blisters, tomato stained shirts, boiling and canning – we had 18 jars of sauce to our name.  We were rich!
Back in Brenda's kitchen, I shared a few of these memories that had entered my mind.  Her eyes lit up as I told her the stories.  "Listen, if you're interested, come back and I'll show you more. I'll put you to work."
Oh, I was interested…