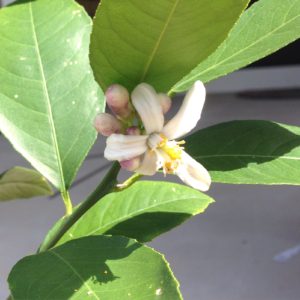 Sometimes things don't go as planned.  This reality shouldn't be a shocker, but when it happens I often find myself taken off guard.  "How did this happen? This isn't the way this was supposed to go!"  I know I'm not the only one to face disappointment.  It's a reality we often face especially when we've taken time to dream and risk.  It's no different in the garden.
A few years ago, I had a dream to grow fruit trees. Apple trees, citrus trees, peach trees – you name it.  I found myself dreaming of what our property would look with an apple orchard, berry patches and a small Pinterest inspired greenhouse full of lemon trees in terracotta pots.  I mean, seriously!  Who wouldn't want fresh lemons?
In the spring of 2015, my husband asked me what I wanted for Mother's Day.  "Oh, I'd love a lemon tree!" (I may have been singing my response.)  He looked at me and asked, "Are you sure this is the right growing zone for them?"  He knew the answer. It wasn't.  You've got to love a guy who doesn't want to burst your bubble!  I assured him that we could figure something out.  "Who knows," I said. "Maybe there was a greenhouse that could keep them over the winter!"
A few weeks later, my Meyer Lemon trees arrived!  We had ordered one but due to a company "glitch," they sent two.  Two lemon trees!!  I couldn't believe it.  It was a sign and I was destined to have them!!  That day, I bought a pair of terracotta pots and began my journey as a citrus tree "mom." I read forums, watched videos and took care of them like they were my babies.
That summer, I watched them bloom and grow. If you've never had a chance to smell Meyer lemon blossoms, it is like nothing else.  I remember going out in the mornings with my coffee and sitting there with my nose in the blooms.  I'm sure I looked like a crazy person but I didn't care.  I had lemon trees!  They brought such joy.
By winter, I slowly transitioned them inside.  My plan was to keep them unless they appeared distressed.  Unfortunately, our local greenhouse didn't have an overwintering service.  I committed myself to finding the best room in our house for warmth and sun.  My husband hated that they ended up in our closet.  We still laugh about it!
By late January, they went under the growing lights in the dining room.  It's normal for potted indoor lemon trees to become mildly distressed.  They need a lot of TLC.  Most people will spray them daily to ensure adequate levels of humidity.  My trees were showing signs of distress but I was thrilled that they were surviving.
At the beginning of March, my husband and I went to a four day conference out of state.  I prepared the best I could, making sure the growing lights were on timers.   A few days later, we arrived home to find that the timer had failed.  To my dismay, the trees had lost all of their leaves.  My heart was crushed!  I did my best to hide my disappointment because they were "just trees." I couldn't believe how close we had made it to spring.  Just a few more weeks!
Disappointment.  It's one of those things that can bite down hard and leave marks.  For me, the lemon trees meant something.  They had been a risk.  I had poured my heart into them.  I remember standing there in midst of the leaves on the floor, feeling tears coming to my eyes.  I was embarrassed and felt an urgency to exit the room.  What was wrong with me?  Immediately, I went out to the front porch and melted into sobs.  It's hard to describe what happened in that moment, but I felt the weight of the last six months come crashing in.
You see, my heart was grieving.  In late August 2015, I had miscarried our baby.  It was a devastating blow to my heart.  We had waited so long for this promise from God.  We believed God had finally answered our prayers!  Then suddenly, our joy turned to sorrow.
I wish I could tell you that things got better soon after.  It didn't.  The truth was, the miscarriage became the catalyst to unlock a lot of unresolved grief.  I don't know when, but somewhere along the way, I came to believe that I needed to be strong for everyone.  I felt responsible to fix "it".  And deep within my heart, I didn't feel safe to share my true feelings because I feared that it might cause "things" to fall apart, or worse, I'd be rejected.  Unfortunately, I had several experiences throughout my life to back this up.
It's funny how we try to subdue our emotions.  My favorite method was to try to overpower them with my mind and will.  I even used scripture to do it: "but be transformed by the renewing of your mind (Rom 12:1-2)."  How spiritual of me! I remember scolding myself, "Why are you still upset? There are lots of people who experience loss in life!  In fact, some have more tragic stories then you!  You should be glad you have at least two kids. That's more than some people!"  False comparisons are a harmful strategy many women use to diminish their feelings.  Let me just say, it never works.
Recently, I listened to a message by Melissa Helser on her journey through disappointment.  She encouraged people to be honest with their hearts and stop fearing their emotions. Feeling disappointment does not make us hopeless.  Disappointment is not a sin!  It's not something we need to repent for, rebuke or subdue.  She went on to describe Jesus' experience with emotional turmoil in Mark 14.  In the passage, we find Jesus crying out to God in the Garden of Gethsemane (I find it amazing that He retreated to the garden to find His Father). He is distressed to the point of sweating drops of blood.  His friends have fallen asleep and left him in his greatest time of need.  Rereading this scripture, I found my heart validated and released to feel.
Right after my lemon trees died, my friend Kathryn called to check on me.  I remember asking her, "Why am I still dealing with this? What's wrong with me?" She said ever so sweetly, "My darling, you are still healing.  You need to be kind to your heart."  She was right.  I didn't need to be scolded or ridiculed.  I needed kindness from others and myself.
Two years later, the journey continues.  Despite disappointments, I'm not hopeless.  God has given me so many gifts along this road of healing.  I've learned a lot.  I'll let you in on a little secret: This is not the end of the story!  As believers, we may face disappointment but we grieve with hope.  I rest in God's promise of complete restoration in the coming Kingdom; what we have lost, will be returned to us (1 Thessalonians 4:13-17 & Matthew 19:28-30).
You see, one day, I will get it all back.  I will have my grove of lemon trees and their fragrance will fill the air.  And on that glorious day, I will hold our precious baby.